Women's football remains a taboo in Afghanistan. Madina Azizi, a top player who was part of the Afghan national women's team, knows it better than anyone. The 23-years old player now coaches a team of girls between the ages of 17 and 20, in Kabul. Even though sport is tolerated for girls until adolescence, marriage generally puts an end to participation of women in any kind of sport activity. Indeed, once married, Afghan women are not supposed to play sports.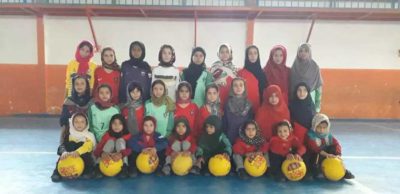 It is therefore difficult under these conditions to create and keep alive female sports associations, and more broadly to contribute to the emancipation of women through sports. It is however the daily struggle of Madina, who does not retreat from any of the many risks and hurdles standing in her way; such as reluctant parents, long distances to travel to find another team to play with, regular suicide bombings in public places in Kabul and possible retaliations against her team and herself.
In the past, Madina has already experienced this type of retaliation in the context of practicing her high-level sport, and has unfortunately been stopped in the pursuit of her dream. Fired by the national team under the pretext of too many absences, her ousting in reality caused by her refusal to sexual favours from men involved in the football sector in Afghanistan. Indeed, members of the Afghan Football federation, including its former president, have been accused of sexual abuse by players of the Afghan national women's team.
In her fight Madina benefits from the support of Khalida Popal, captain of the first Afghan national women's team in 2007. Threatened to death for her activism and now a refugee in Denmark, she leads actions for the emancipation of young girls through sport.
This documentary, which portrays the fight of these two strong women in favour of the empowerment of young girls and their access to the practice of football in Afghanistan, can be watched until July 5th, at the following link: https://www.arte.tv/fr/videos/082199-000-A/le-foot-feminin-a-kaboul-une-lucarne-de-liberte/